Kasih Bunda France is a humanitarian non-profit formed under the law 1901 and is active in Sri Lanka, Indonesia and Madagascar.
Kasih Bunda means "motherly love" in Indonesian and was created in Indonesia in May 1984 with the opening of the Jakarta Orphanage.
The non-profit has been active in Sri Lanka and Madagascar since 1985. And since 2013, Kasih Bunda France is accretited by the Ministry of Foreign Affairs for adoption in Bulgaria.
Its main objectives are the support of international adoption, the child sponsorships and humanitarian projects.
Kasih Bunda has more than 600 members in France in 2016 and is known for its quality work and the friendliness of its volunteers. More than 30 of the volunteers share the work of follow-up of prospective adoptive parents, management of the child sponsorship program, financing and start-up of new in-country projects and event organization in France. The latter is important to the generation of financial support of Kasih Bunda. Its objective is to redistribute 90 % of the donations and sponsorships to the children in the orphanages or from poor families.
Kashi Bunda relies on its qualified local representatives.They are knowledgeable of the country and its traditions. They are responsible for oversight of the local projects and we can trust them to contact us when needed. Kasih Bunda enforces strong policies of accountability. Board members travel regularly to Sri Lanka to assure that the funds are being used appropriately in accordance with the project goals.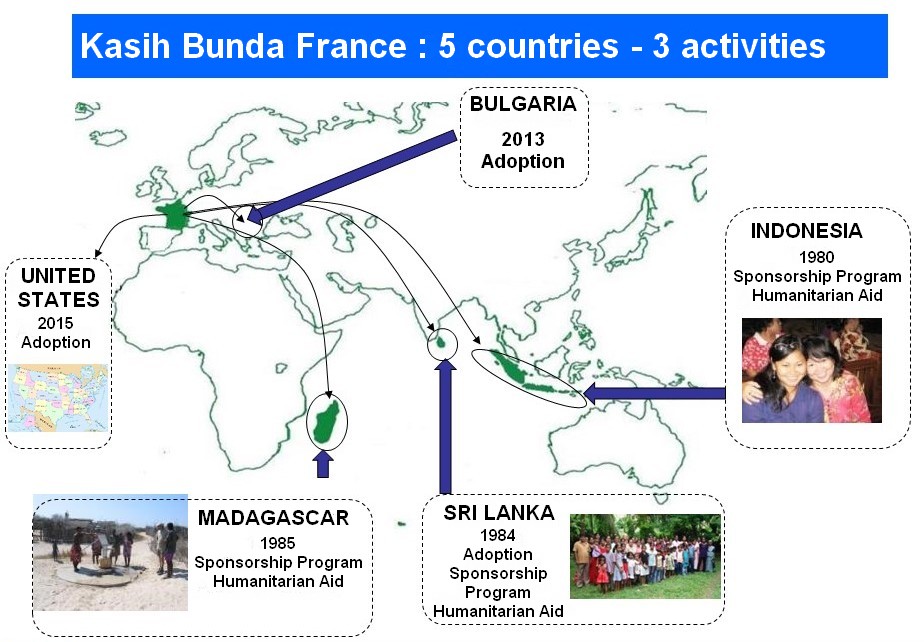 RESULTS
350 children worldwide aided through sponsorship program
30 remodelled or newly build schools in Sri Lanka
700 materials and supplies for schools students in Indonesia
200 families assisted with the international adoption process
2 middle school facilities in Indonesia
1 school build in Madagascar
2 solar energy projects, one in Madagascar and one in Sri Lanka
20 wells built in Madagascar
Please help us to continue to write the wonderful story of KASIH BUNDA FRANCE !